Responsive online publications instead of PDFs
People are reading online more and more often - on their PCs at work, on their smartphones while on the go or on their tablets at home. As a result, print publications are becoming less and less important, because they are expensive, have to be printed and sent out, and no one ever finds out whether they have been thrown into the bin without being read. And because the world is working remotely more and more, the display areas for print publications are decreasing as well.
Still, marketing and sales departments are mostly focused on creating print materials and using the print PDFs for online communication. Time-consuming and expensive magazines, brochures, reports, catalogues and other publications remain mostly ineffective (not only online).
Not responsive
Not interactive
Not shareable
Not measurable
Go digital!
No PDF
Responsive web publications instead of PDFs that no one reads
Ease of business
Get started immediately and expand as needed, no IT required
Do It Yourself
Easy creation process, suitable for any level of expertise
Analytics
Integrated Analytics or Google Analytics for detailed evaluation
Full service
Creation service, customising and integration of third-party services
High security
Hosted in Germany and GDPR-compliant
Simple creation
With Webmag, businesses create digital publications themselves - browser-based, responsive, interactive and evaluable thanks to integrated analytics. The best thing is that the creation is so simple that no additional agency is required. Thanks to the modular editor, the creation is easy as pie and can be done without any prior knowledge or special expertise. If required, companies can also have their own building blocks and master templates created to include every special detail of the corporate design specifications.
"We create our weekly news magazine with Webmag. Simply copy the last issue, adapt the content, that' s it. We publish the magazine through various channels, website, email and social media. It's very popular because it corresponds to the reading habits of our target groups, it's something new and it's a lot of fun. In the meantime, colleagues in different departments create digital brochures, magazines and other materials. Unlike so many other internet services, the Webmag Team is available to answer questions at any time."
Joachim Löw
Head of Marketing & Business Development, ARNECKE SIBETH DABELSTEIN
Perfect use
The independent character of the magazine is kept with Webmag online as well. However, every single article in the magazine can be viewed and shared separately, for example on social media. Digital magazines are responsive - which means they can be read optimally by readers on any device. Interactive elements such as galleries, videos & widgets make the presentation of the content more appealing and keep readers in the ecosystem. This makes the virtual visit to your business more informative and personal.
Detailed evaluation
All user data can be evaluated via integrated analysis tools. In this way, you learn what your readers are really interested in. You can see in real time how many people read your customer magazine, which articles are viewed particularly often and which ones are viewed rarely, from which device the readers do this and whether they click on your call-to-action buttons. With the insights gathered, you can optimise your publications and improve the reading experience.
How companies use Webmag for their customers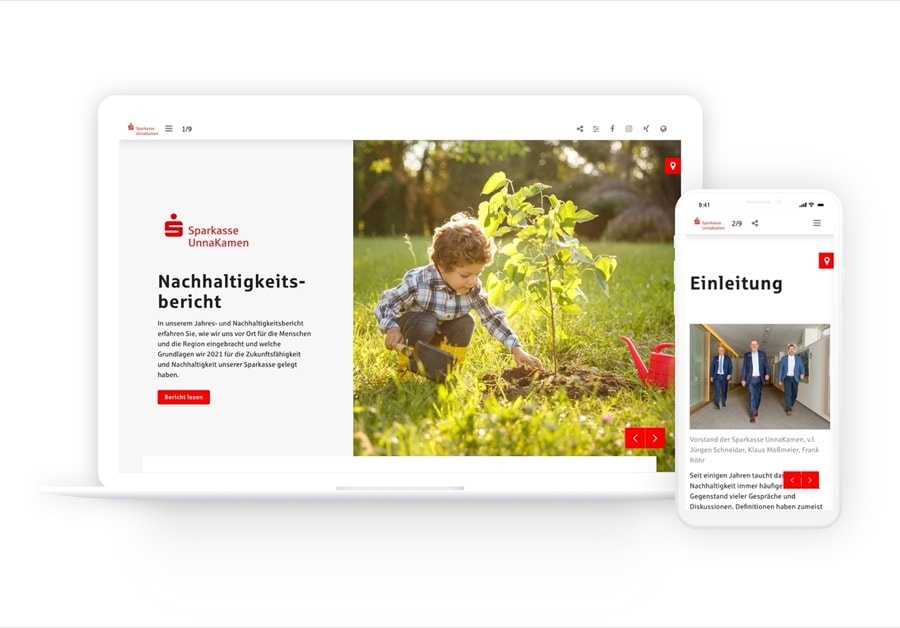 Digital Content Marketing for modern regionality: sustainability report Sparkasse UnnaKamen